CATEGORIES
OUTDOOR LED DISPLAYS
High Resolution LED Displays
VIDEO WALLS
DIGITAL SIGNAGE/KIOSKS
Outdoor Digital Signage Kiosk
Indoor Digital Signage Kiosk
Indoor Heave Duty Touch Kiosks
TOUCH DISPLAYS
ACCESSORIES
SOFTWARE
GWF-A3M Series LED Display is using the latest SMD LED technology, designed for outdoor ultra-high-resolution displays. GWF-A3M series LED display pixel pitch has 2.8mm, 3.9mm, 4.8mm, 6.2mm, brightness has from 6500nits to 7000nits, meet different market needs.
GWF-A3M series LED display with standard module 9.84" x 9.84" (250mm x 250mm). We provide customized services based on module dimensions.
GWF-A3M series LED display can use multi-options of communication, ethernet cable, Wi-Fi, Wireless Bridge, 4G. We provide an LED control system for windows, a cloud-based system for content management and display monitoring, remote real-time control. You can access with PC, tablets, or mobile phones at any time to manage your devices.
Certificate: ETL, FCC, CE, RoHS
Products Features
Excellent Visual, Energy Saving
• Small Pixel Pitch ranging from 2.8mm~6.2mm
• 281 trillion color
• Grey Level 14-16 Bit
• Higher Contrast
• High 3840Hz refresh rate
• Automatic Brightness Controls, auto-Adjustment for Ambient Light for Maximum Comfort
• Low Power Consumption, environmentally friendly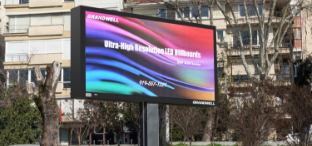 Industrial Grade and Weatherproof
• Stablest Parallel Design - any Outages will be Isolated while the rest of The Billboard Still Runs
• Waterproof Modules! Display Protection Grade of IP65
• Series-A Gold Wire LEDs with 4-Layer PCB. UL-Certified Power Supplies and Cables
• Dual Channel Heat Dissipation, No Fans
• Resistant to Fire, Moisture, and Dust.
• Anti-Corrosion, Anti-Static Electricity, and Lightning Protection with Short Circuit Protections
Light Weight and Easy to Install
• Aluminum Cabinet Thickness of Only 3.58 inches
• Standard Cabinet Weighs 6.9lbs/sqft. 20lbs to 40lbs Total
• Cost-Efficient Shipping/Installation
• Easy Installation
• Customized steel structure designs and manufacturing services
Remote Monitoring and Control
• Remote On/Off
• Remotely Monitor the Current/Voltage and Calculate Power Consumption
• Record the Ambient Temperature, Brightness and Display Status
• Monitor Abnormal movement, vibration, and noise
• GPS Positioning
• Send Alert Messages to Managers
User-Friendly Admax Software
Admax LED Display Control System for Windows PC is an easy-to-use software developed by Grandwell for the end-user.
• Content Management Includes editing the Text, Picture, Video, Clock, Date, Timer, RSS, etc.
• Create Playlists
• Schedule Program, the screen on/off
Admax Cloud System
We provide a Cloud Service through admaxcloud.com that controls display and manages contents. You can access the devices with PC, Tablets, or Mobile Phones at any time.
• Wired Ethernet, Cellular Communication, Wireless Bridge, or Fiber Optic
• Secured data
• Create Playlist and Schedule Online
• Smart Dashboard
• Statistical Analysis
Choosing Best Pixel Pitch for Your Outdoor LED Displays
Specifications
Model No.
A3MF2
A3MB3
A3MB4
A3MB6
Pixel Pitch
2.8mm
3.9mm
4.8mm
6.25mm
LED Lamp
SMD 1R1G1B
Module Dimensions
9.8" X 9.8" (250 x 250 mm)
Module Resolution
88 x 88
64 x 64
52 x 52
40 x 40
Standard Cabinet
Cabinet A: Dimension 39.4" x 29.5" x 3.6" (1000 x 750 x 91mm) , weight 58 lbs.
Cabinet B: Dimension 39.4" x 19.7" x 3.6" (1000 x 500 x91 mm) , weight 39 lbs.
Cabinet G: Dimension 19.7" x 19.7" x 3.6" (500 x 500 x91 mm) , weight 19.5 lbs.
Waterproof
Front: IP65 Back: IP54
Service Access
Front, Rear
Compliant Standard
ETL, FCC, CE, RoHS
Remark: Power consumption tolerance: ±15%, according to the actual situation. Specifications are for reference only. Don't hesitate to get in touch with our salesperson for details. All rights reserved to GRANDWELL.
5-Years Warranty
• Failed LED Modules will be Repaired or Replaced for 5 Years
• Free Software Training
• Lifetime Technical Support
• Inventory Tracking and Quality Control Management
Maintenance Management Services
• Equipment and Facility Management
• Preventive Maintenance Scheduling, Regular Inspection
• Online Monitoring, Record Various Status and Send Alert Messages
• Operation Reports
Content Management Support Services
• We provide content management and design support services to maximize the value of all customers' displays
• Support Customers to Build CMS (Content Management Systems)
• Design Services, Pictures, Animations, and Video Productions
Get a free Quote!