CATEGORIES
OUTDOOR LED DISPLAYS
High Resolution LED Displays
VIDEO WALLS
DIGITAL SIGNAGE/KIOSKS
Outdoor Digital Signage Kiosk
Indoor Digital Signage Kiosk
Indoor Heave Duty Touch Kiosks
TOUCH DISPLAYS
ACCESSORIES
SOFTWARE
Digital Time and Temperature LED Signs
30 Years of Experience • Super Reliable • Energy-efficient
Grandwell Time and Temperature LED Signs with high-contrast, broad-stroke digits. The signs feature energy-efficient LED technology with outstanding visibility at impressive viewing angles.
• High brightness. 4000~6000 nits
• Per digit 8 with 7pcs independent segments, and one number with one separate driver, easy to replace, low-cost repair
• Easy operation. RF remote control, the control distance is over 160 ft (about 50 meters)
• Provide customized software interface design and develop services
• Each segment is sealed with glue on the face and back. The segment can reach IP67 waterproof rating
• Different standard sizes and colors are available to fit your needs
• Factory installed cabinet makes installation fast and straightforward
• We provide customized manufacturing to meet your construction needs upon request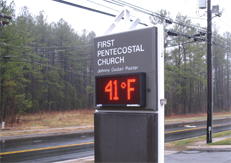 Specification
Item
GWR-TT18
GWR-TT20
GWR-TT24
GWR-TT32
Led Lamp
DIP LED
Color
Green, Optional Mono. Red, Amber, White, Blue
Digit Height
18"
20"
24"
32"
Cabinet Dimension
56" x 24" x 3.1"
59" x 24" x 3.1"
72.8" x 27.6" x 3.1"
94.5" x 35.4" x 3。1"
Cabinet Weight
29 lbs. (13kg)
33 lbs. (15kg)
42 lbs. (19kg)
78 lbs. (35kg)
Cabinet Material
Powder Coated Steel (Optional Aluminum with extra cost) ,black color (other color for option)
Brightness
4000~6000 nits
Viewing Angle(H/V)
H≥70° V≥35°
Input Voltage
AC 100V~240V,50/60HZ
Operating Voltage
12V DC
Consumption (Max)
42W(R/Y) 72W(G/W)
45W(R/Y) 75W(G/W)
90W(R/Y) 145W(G/W)
150W(R/Y) 245W(G/W)
Running Temperature
Temperature -22 ° F ~ 140 °F (-30 °C ~ 60 °C), Humidity 10%~90% RH
Waterproof
Front: IP67 Back: IP65
Control
Remote control
Lifetime
100,000+ Hours (Normal Temp. Condition)
Warranty
5 Year Limited Warranty
Remark: Power consumption tolerance: ±15%, according to the actual situation. Specifications are for reference only. Don't hesitate to get in touch with our salesperson for details. All rights reserved to GRANDWELL.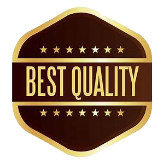 Premium Quality
5 Years Warranty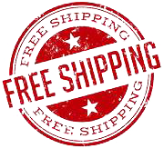 Free Shipping
Easy Installation
Energy Saving